Voluntary Donations
Donations to St. Olave's School Voluntary Fund are used to support the provision of a wide range of curricular and co-curricular activities at the school and relieve the impact of overstretched government funding.  
父母/Carers wishing to make donations to the St. Olave's Grammar School Voluntary Fund, can do so via the Charities Aid Foundation (CAF) (via link below) or by setting up a Standing Order with your bank either directly via your Online banking/App, or you can fill in the Standing Order form (via link below) below and return the original to the School Finance Office. We will forward the form to your bank on your behalf.
请注意 that donations are non-refundable.  You can also contact the school directly, if you have any questions, via: office@saintolaves.净
 
Donating via: CAF (Charities Aid Foundation)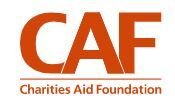 The CAF is a registered UK Charity that offers products and services under one roof, to help contributers plan their charitable giving and Gift Aid.
Set up a one-off or regular voluntary donation to St. Olave's Grammar School 在这里
Information regarding the Charities Aid Foundation's role in processing donations is available: 在这里
Donating via: Standing Order
请注意 we do require the original form as the bank will not accept scanned copies. If you do set up a Standing Order, please also complete the Gift Aid Declaration form (below) and return to the Finance Office financeoffice@saintolaves.净
Donating via Standing Order means the school receives 100% of your donation as we do not incur any processing or transaction fees.
Voluntary Fund Standing Order Form